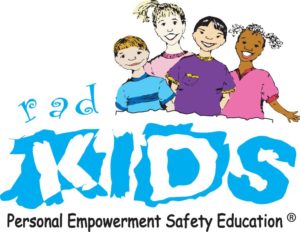 Daybreak Elementary is a proud participant of the radKIDS program. radKids is a  comprehensive safety education and personal empowerment program. This program provides education that enhances the ability of children and parents to utilize knowledge, skills, and power to protect themselves from violence and harm.
While much of the current prevention-based thinking centers around bystander intervention, radKIDS focuses on empowering the targeted child because no one has the right to hurt a radKID (radKIDS rule #1).
radKIDS also know (radKIDS rule #2): radKIDS don't have the right to hurt anyone else UNLESS someone is trying to hurt them, then they have every right to defend against the aggression and stop the assault (supported by law in every state). rad- KIDS are not only given permission to stop anyone from hurting them they are taught to use the Block, Run and Tell ® technique learned in class in a context which clearly explains that radKIDS don't FIGHT the bully but they CAN STOP the assault by- standing firmly in their radKIDS stance, using their voice to activate an alert system and block to protect themselves from physical aassault, until they can get free enough to find a SAFE ZONE and get help by telling an adult who can advocate and mediate the conflict.
radKIDS know that being bullied is not their fault and it's not only OK for them to tell a trusted adult, (radKIDS rule #3) it is encouraged.
radKids Rules:
No one has the right to hurt me because I am special
I don't have the right to hurt anyone else, including myself UNLESS they are trying to hurt me, then I have the right to STOP them.
If anyone tries to hurt me, trick me, or make me feel bad inside, it's not my fault, so I can tell.